Thesis article
Equity markets have been troubled so far this year as persistently high inflation and rising interest rates weigh on the outlook for many stocks. On top of that, the market is increasingly pricing in a potential recession, which could hurt earnings and revenue. growth for most stocks. At the same time, the S&P 500 (NYSEARCA: SPY) has become cheaper this year and its value is now relatively reasonable. Performance for the rest of the year depends on a range of macro factors, but the outlook isn't too bad until then.
Will the stock market continue to crash?
During the first half of 2022, the S&P 500 index fell 21%, which means the broader market is technically in bearish territory right now, after falling more than 20%. This decline in the market was based on several macroeconomic factors and had a different impact on different sectors and industries: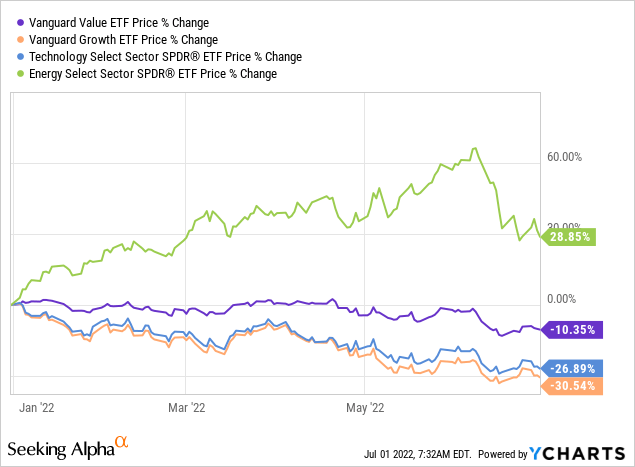 Value (VTV) has easily outperformed growth (VUG) so far this year, down 10% vs. down 31%, respectively. In different industries, the performance was also very different. Energy (XLE), for example, has returned around 30% this year thanks to the fact that it has benefited from inflation and its value characteristics. In contrast, the high-growth tech industry (XLK) had a pretty bad first half, dropping almost 30% in the first six months of 2022.
Inflation continues to run at a rate of over 8% and shows no signs of being transitory so far. This hurts consumers' purchasing power because less money is available for discretionary purchases when they are forced to spend more on energy, food, etc. At the same time, companies that cannot easily pass on inflation are seeing their margins under pressure. Target (TGT) and Amazon (AMZN) are notable examples, as their recent quarterly results show cost pressure eating away at their margins.
The Fed was forced to raise interest rates to contain inflation, although this did not bring inflation back down to the 2% level. Further rate hikes are therefore expected, which creates a series of additional problems. First, exploding mortgage rates are putting additional pressure on consumers' purchasing power and, with tighter financial conditions, businesses are less likely to expand their operations. The risk of recession has therefore increased significantly and GDP growth in 2022 could easily be disappointing.
On top of that, rising interest rates are putting pressure on stock prices for an additional reason. Since interest rates are factored into discounted cash flow models via the discount rate, and a higher discount rate results in lower fair value estimates for stocks, all things Equally equal, valuation compression is another factor to consider.
Overall, there are therefore several macroeconomic issues that could continue to weigh on the near-term outlook for equities. It is possible that the S&P 500 and the market as a whole will continue to decline over the next few weeks and months. That being said, there are also positive signs when it comes to the longer-term outlook.
Is a stock market rebound in sight?
Valuation naturally plays an important role when it comes to future stock market returns. On this front, the S&P 500 at 3,800 looks far more attractive than it did at 4,800. After pulling back from all-time highs reached last year, the broader market is now unvalued. at a significant premium to the historical valuation norm.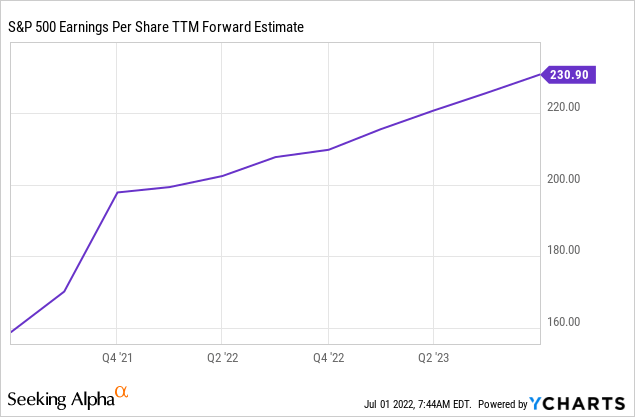 Based on current consensus estimates, the S&P 500 is expected to gain $210 in 2022 and around $230 in 2023. Relative to the index's current level, this means the index is valued at 18 times the net earnings of this year today. The earnings multiple for 2023 is 16.5, which corresponds to an earnings return of just over 6%. These are not absolute valuations, but they are not particularly high valuations either. Compare that with an index level of 4,800 and earnings of around $200 in 2021, which gave a multiple of earnings in the top 20. At that point, valuations were surely stretched, so it's not too surprising to see the index pulling back from those highs. But today, with a high teen earnings multiple for 2022, valuations look relatively reasonable and are no longer historically high. Of course, it is possible for S&P 500 earnings to fall short of expectations, for example when the Fed rises too quickly and the economy takes a hit. But since central bankers will be scrambling to stage a soft landing, I believe there's a strong likelihood that the coming recession, if we do get one, will be milder than what we've seen for the Great Recession, for example.
At the same time, there are signs that inflation may moderate in the coming months as a few key commodities have recently started to pull back from this year's highs. Copper and oil, for example, are both down from highs reached earlier this year, and so is steel and even some agricultural commodities. This could dampen inflation and thus provide a better outlook for consumer spending. Easing inflation would also be positive for the margins of companies that are currently facing steep cost increases.
A reversal and rise in the equity market are far from safe bets, but there are reasons to be moderately optimistic longer term, as valuations do not look too stretched and inflation could peak at second semester.
ESPION ETF Basics
SPY, or SPDR S&P 500 Trust ETF, is one of the largest ETFs in the world. The ETF has around $350 billion in assets and is one of the best ways for investors to gain broad exposure to the US stock market if they want it. Of course, individual stocks may offer higher yields or other characteristics that investors appreciate. But for those looking for a diverse mix of stocks, SPY is a top choice. The ETF's expense ratio is very low at just 0.09%, so even over a 10-year period investors will only lose 1%, which isn't very significant. SPY's dividend yield is 1.6% at current prices. This is considerably less than what can be obtained from treasuries at the moment, which has not always been the case. On the other hand, SPY has increased its dividend significantly over the years, and it should do the same in the future:

Distributions are somewhat uneven over time, but over the past decade SPY's dividend has risen again from $0.61 (Q1 2012) to over $1.50 in the second quarter of the year in Classes. With dividends up more than 150% over this period, investors can expect dividends to continue to grow at a healthy pace, although not necessarily at exactly the same rate as in the past.
The SPY ETF has generated a price return of 178% over the past decade, which translates to annual returns of 11% before factoring in dividend payments. Again, past returns don't necessarily equal future returns, but the ETF's success story, backed by the success of the broad US stock market, might allay investor concerns. At least when investing with a long-term horizon of at least several years, or even better, several decades, it seems unlikely that SPY is a bad investment.
Is SPY a buy, sell or hold?
If someone is buying today, I believe there is a fairly high probability that returns will be significantly positive in a decade or two. But that doesn't mean SPY will go up in the next few weeks or months. The market is currently facing several macro headwinds, and while SPY is currently trading at a relatively reasonable valuation, the short-term outlook is uncertain. So I think staying neutral until we have a better picture of a potential recession and the future path of inflation might be a good idea.