Inflation is skyrocketing, the yen is being beaten to death, yield pegs are under attack, and Kuroda's term won't expire until April. Here's what the BOJ did.
By Wolf Richter for WOLF STREET:
The Bank of Japan, the queen of QE who started the whole circus over 20 years ago and took it to extremes and got away with it, was also the central bank that actually did QT in 2006 -2007 and reduced its assets by 36% over an 18-month period – while the timid Fed QT in 2017-2019 reduced its assets by only 16% in 20 months.
And now the BOJ is back, and this time inflation is skyrocketing, including core inflation, and the yen is being beaten to death, which would require much higher rates and a lot of QT to be mastered. But the BOJ's verbiage is ultra-dovish cut-and-paste, and its key short-term rate is still negative, and it caps the 10-year yield at 0.25%, while the 10-year US Treasury yield approaches. the 4%, and the BOJ must defend this yield parity with rhetoric, threatening to buy "unlimited" amounts of bonds, and with real purchases. And yet, the BOJ undertook a balance sheet reduction shock and awe.
Total assets on the BOJ balance sheet as of September 30, released on October 7, plunged 24 trillion yen from the previous month, after plunging 16 trillion yen in August, 7.4 trillion yen in July, 3.8 trillion yen in June and 2.2 trillion yen in May. Since the balance sheet peak in April, total assets have fallen by 54 trillion yen, or 7.3%, or $371 billion at the current exchange rate. It unwound about a third of pandemic-era QE:
Total assets on the BOJ's balance sheet fell to 684.9 trillion yen at the end of September. Over roughly the same period, the Fed's total assets fell just 2.2%, and the markets already have a cow.
I promised myself a while ago that I wouldn't be surprised by what central banks do, that I wouldn't be surprised by what they do, but September was a doozie. If the Fed did that, the whole world would collapse, according to Wall Street, I think.
The month-over-month changes in the BOJ's balance sheet are shown in the chart below, in trillions of yen, by month from the previous month. Declines every three months in not-so-heavy QE periods, like 2018-19, result from large long-term government bond issues maturing and coming off the balance sheet that month and being replaced another month. . This happens every three months, but becomes subdued in times of intense QE.
The chart starts in 2012, the year before Abenomics, which relied primarily on ridiculous amounts of QE and ridiculous amounts of government deficit to stimulate the economy. But now inflation is skyrocketing and the yen is crashing, and the party is over.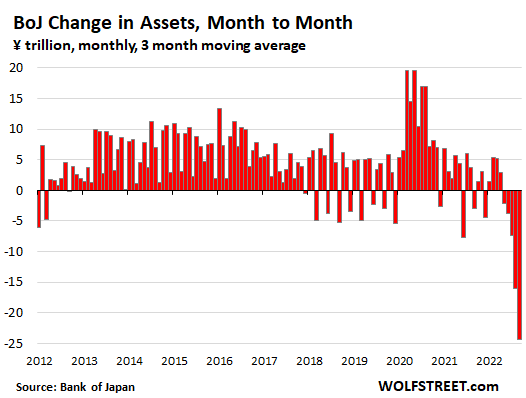 Total assets, long-term.
Even on this 22-year chart, covering the history of modern QE, you can see the decline in total assets since the balance sheet peak in April, and you can also see the QT period from January 2006 to June 2007 (circled in green), during which the BOJ reduced its assets by 36%, unwinding five years of QE. Total assets did not return to the 2005 peak until 8 years later when Abenomics began: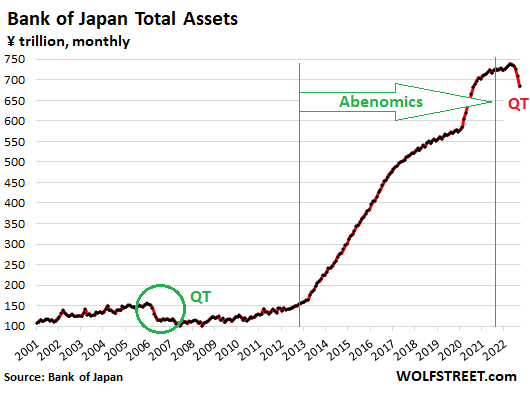 The BOJ has a variety of assets on its balance sheet, including Japanese government securities, loans, gold, corporate papers, corporate bonds, "monetary trusts" (stock exchange ETFs and REITs Japanese) and other things.
The two main asset classes are government securities and loans. And the BOJ uses them in different ways.
Loans, the main stimulus of the pandemic.
During the pandemic, the total amount of loans outstanding under various stimulus programs more than tripled from 48.8 trillion yen in February 2020 to 151.5 trillion yen in March 2022, after increasing by 103 trillion. billion yen in two years.
Rather than creating money and buying government bonds from banks, the BOJ created money and lent that free money directly to banks. This is designed as a direct stimulus. The ECB has had even larger lending programs since the euro debt crisis. Like bonds, loans mature and if not rolled over, must be repaid.
Since the peak in March, loan balances have been reduced by 71 trillion yen, or almost half, reversing the majority of the pandemic stimulus: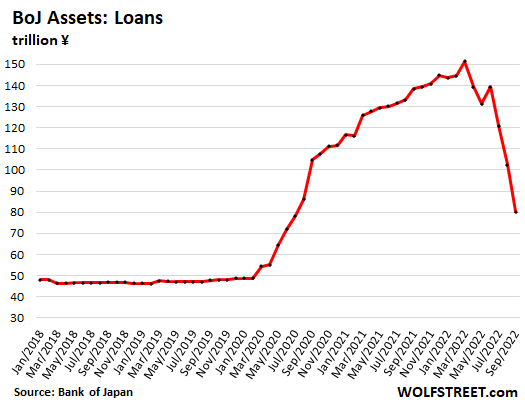 Japanese government securities.
As part of its pandemic stimulus, the BOJ increased its holdings of government securities by 48 trillion yen, less than half of the increase in lending. And he stopped increasing his holdings at the start of 2021 and then let his holdings decline by 11 trillion yen over the next 12 months to February 2022. So even though his loan portion of his QE was still moving, the bond portion of his QE had already turned into QT.
But then in early 2022 the Fed started raising rates and talked about the idea of ​​QT, and the ECB started talking about rate hikes, and other central banks had been raising rates for months , while the BOJ still clung to its negative policy. and the cap on the 10-year Japanese government bond (JGB) yield of 0.25%, even as inflation began to rise.
And investors started dumping JGBs, and yield clashed with indexing yields, and the BOJ decided to defend indexing yields, mostly with rhetoric of "unlimited" bond purchases that has been widely printed in the financial media, but also with actual purchases. His holdings increased by 18 trillion yen, canceling out QT's 11 trillion yen and adding another 7 trillion yen. It was not a large amount, but large enough to defend return parity:
ETFs of stocks, corporate bonds, commercial paper and J-REIT.
Although they were swept up wildly in Western financial media and the financial blogosphere, these purchases were relatively small. Total holdings at the end of September in equity ETFs, corporate bonds, commercial paper and J-REITs combined were just 7% of the BOJ's total assets. Equity funds are marked to market and fluctuate with market movements. The share of equity ETFs, at 36.9 trillion yen as of September 30, accounts for the majority. During the pandemic stimulus phase, the BOJ added to these holdings, but stopped in early 2021, and they remained roughly flat: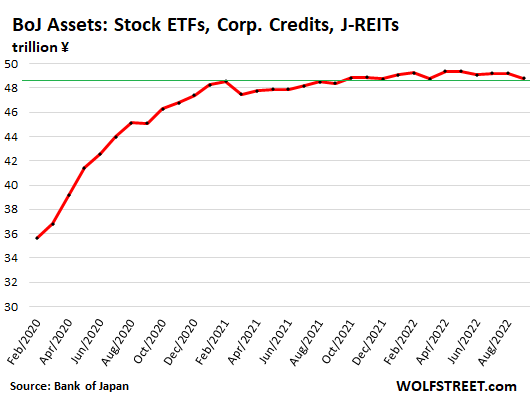 So now inflation is skyrocketing in Japan and the yen is getting killed. Unwinding part of the balance sheet in this way likely took some fuel out of inflation and possibly prevented the yen from falling further. But what the BOJ really needs to do, in addition to the QT, is raise its key interest rates significantly so as not to fall further behind the Fed and even the ECB, and it needs to remove the peg on the 10-year Yield JGB and let the yield float higher.
And it probably will, but not before BOJ Governor Haruhiko Kuroda – who was one of the architects of Abenomics – leaves at sunset when his term expires next April. And it's a long time trying to keep things together.
Do you like to read WOLF STREET and want to support it? You use ad blockers – I completely understand why – but you want to support the site? You can donate. I greatly appreciate it. Click on the mug of beer and iced tea to find out how:

Would you like to be notified by e-mail when WOLF STREET publishes a new article? Register here.