Core Assets Corp. (CSE: CC) is a Vancouver-based junior mining exploration company focused on the exploration and development of its CRD Porphyry polymetallic copper project in the Atlin mining district of northwestern British Columbia. Called the Blue Property, the project comprises a district-wide land position of 1,083 km² in the last unexplored area of ​​the prolific Stikine Terrane, with Core Assets essentially owning the entire district. The Atlin Gold Camp was established during the Klondike Gold Rush and produced over 600,000 ounces of gold between 1898 and 1945, making it the second largest gold producing region in Colombia -British.
The Blue property is located 30 miles southwest of Atlin, and the area has excellent road and electrical infrastructure, mine support services readily available, and equipment can be transported to the property during the winter months. on nearby Atlin and Tagish lakes once they freeze over. more. The Blue property contains one of the world's largest and richest documented surface mineralization expressions of any known early-stage CRD project, with indications of a large nearby porphyry feedstock that hosts the geological elements required to produce a world-class CRD-porphyry skarn deposit. The sheer size of the Blue property provides the opportunity for many potential discoveries.
Carbonate replacement deposits (CRDs) are carbonate-hosted polymetallic deposits that formed at very high temperatures, replacing sedimentary carbonate rocks. When the molten metal solutions cooled, they formed into vertically oriented polymetallic igneous intrusions, which Core Assets calls "Chimneys" and Mantos, which are horizontal structures that formed around the rock like a blanket. The Blue Property contains numerous chimneys interspersed with mantos.
Core Assets targeted the Atlin area because it is a continuation of the same geological terrane that hosts several major deposits in the better-known "Golden Triangle" region of British Columbia, just south of of Atlin. Skeena Resources Ltd. (TSX: SKE) is working to bring the Eskay Creek open pit mine back into production. It has proven and probable reserves of 3.9 million ounces of gold at a grade of 4.57 g/t AU/Eq. Seabridge Gold Inc. (TSX:SEA) meanwhile, is developing its KSM deposit, which is the largest undeveloped gold project in the world, with proven and probable reserves of 47.3 million ounces of gold and 19.4 billion pounds of permitted copper resources , measured and indicated.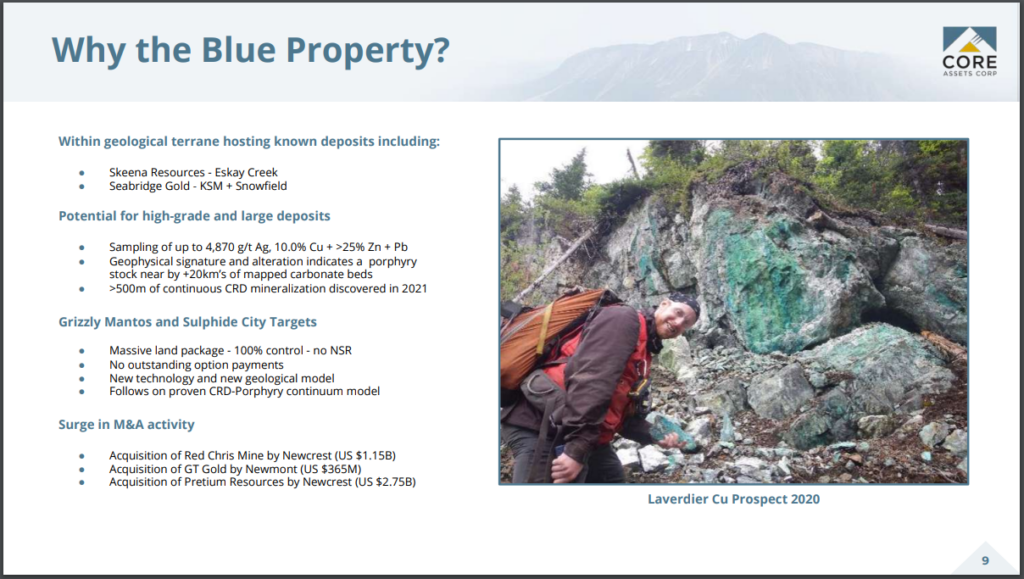 Another exploration company very similar to Core Assets is Western Alaska Minerals Corp. (TSXV:WAM), which is developing its CRD Waterpump Creek lead-zinc-silver deposit located in southeast Alaska near the British Columbia-Yukon border and appears to be hosted by the same underlying geology as the project Blue Property CRD from Core Assets. It has a historical non-43-101 resource estimate of 166,000 tonnes at 9.5 o/t silver, 16.1% lead and 5.5% zinc. WAM will compile an updated resource estimate once it completes its current drilling programs.
CRD deposits tend to occur near the Earth's surface and can be massive in size, with sulphide bodies often extending for several kilometers and can open up at depth. The metallurgy is well understood and they can be profitable and easy to mine in open pits with less environmental impact than underground mines. Some CRD deposits can be found near or interspersed with additional porphyry and skarn systems. The Blue property has over 20 km of mapped carbonate beds, including the discovery in 2021 of over 500 meters of continuous CRD mineralization. The geophysical signature and alteration indicate a nearby porphyry stock. Extensive sampling on the property returned values ​​of up to 4,870 g/t silver, 10.0% copper and over 25% lead and zinc.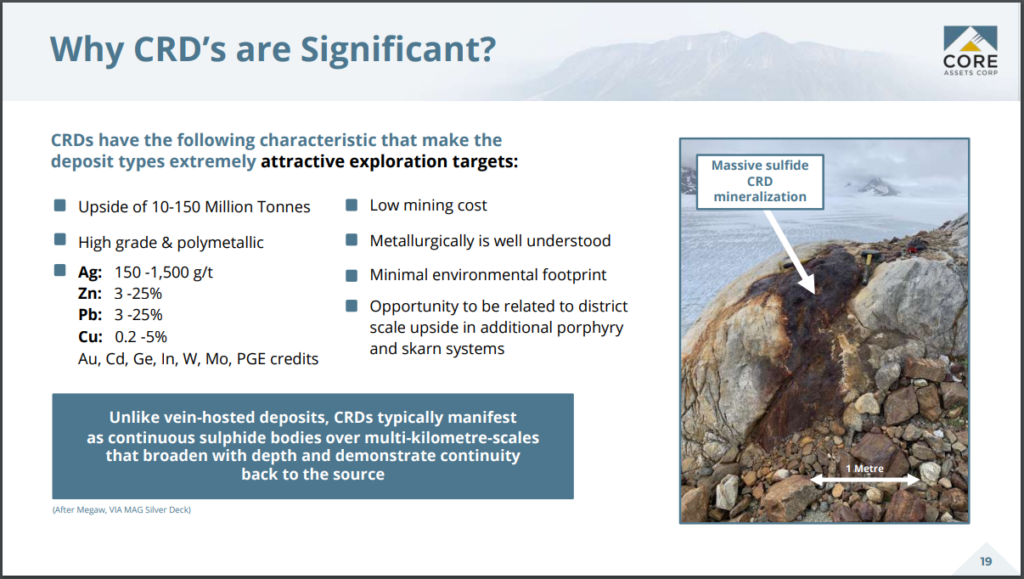 The Blue Property has identified a number of key mineralized zones that the Company is focusing on which are effectively projects within the overall project. On August 12, 2022, Core Assets announced very encouraging drill results on the Sulphide City target in the Silver Lime Zone, intersecting several raise-type CRD conductors. This includes the intersection of a molybdenum-copper-bearing porphyry that the company says may be the source feeding the more than 250 high-grade CRD occurrences that have been observed at surface throughout the porphyry CRD deposit. of silver lime. To date, the company has intersected significant CRD mineralization in every drill hole completed.
Nick Rodway, CEO of Core Assets, said:The second hole ever drilled on the Sulphide City target is what we see as a potential upstart – SLM22-006 intersected extensive copper-molybdenum-zinc mineralized intersections of altered porphyry and endoskarn, and zinc -semi-massive to massive copper-Lead/silver contact skarn and replacement carbonate mineralization. We have now mined the Silver Lime porphyry CRD system at the Sulphide City and Jackie targets, located 2.4 kilometers apart. Multiple skarn and/or carbonate replacement occurrences have been intersected in every drill hole completed at the Silver Lime project to date. Mining of a well-mineralized porphyry spring at Sulphide City with CRM mapped for 6.6 kilometers at surface indicates that this system is large with room for growth and is comparable to other porphyry CRD systems at the surface. district level in the world."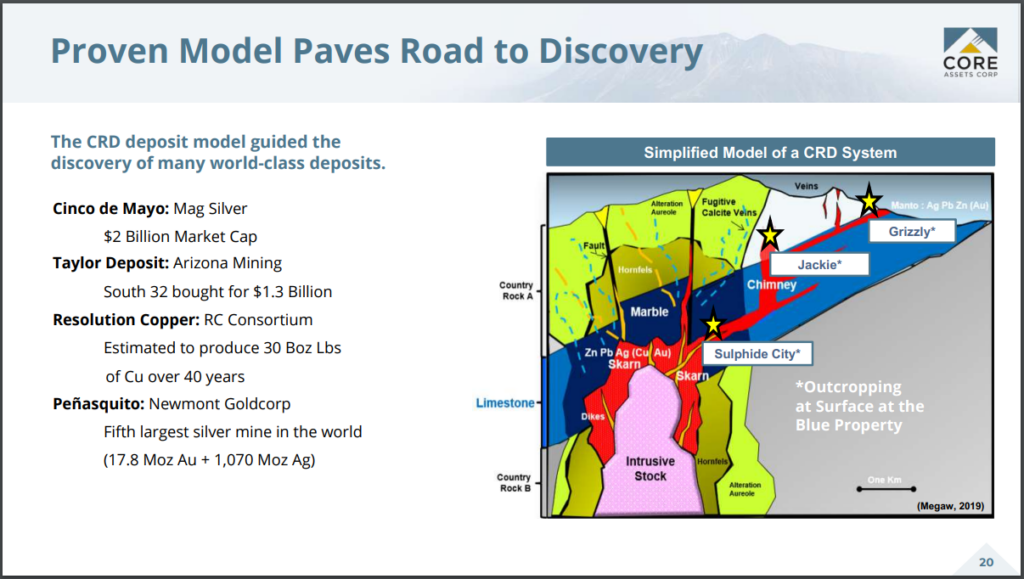 CRD's exploration model has led to the discovery of some of the largest deposits in the world. The Peñasquito mine in Mexico, owned by Newmont, is the 5th largest silver mine in the world, with reserves of 17.8 million ounces of gold and 1.07 billion ounces of silver. The Resolution Copper project in Arizona, jointly owned by Rio Tinto and BHP, is considered one of the largest untapped copper deposits, with estimated reserves of 1.787 billion metric tonnes at an average grade of 1.5% copper . The deposit is 6,800 meters below the earth's surface and is expected to produce 30 billion pounds of copper over a 40-year period.
Core assets appear to represent an opportunity for junior exploration investors, with large CRD deposits potentially leading to strong valuations and the potential for lucrative acquisitions. The Taylor CRD polymetallic deposit in Arizona, which has an estimated mineral resource of 138 million tonnes averaging 3.82% zinc, 4.25% lead and 81 g/t silver, was acquired in 2018 by Australian miner South 32 from Arizona Mining for $1.3 billion. , a 50% premium to Arizona Mining's stock price. If Core Assets can build on early indications of the size and scope of its Blue property to make it one of the largest CRD deposits in the world, one can only guess what kind of valuation it might get. as a potential acquisition. It will probably take the next three years of exploration just to delineate the size of the deposit.
---
FULL DISCLOSURE: Core Assets Corp is a customer of Canacom Group, the parent company of The Deep Dive. The author was paid to cover Core Assets Corp on The Deep Dive, with The Deep Dive having full editorial control. Not a buy or sell recommendation. We may buy or sell Company securities at any time. Always do additional research and consult a professional before purchasing a title.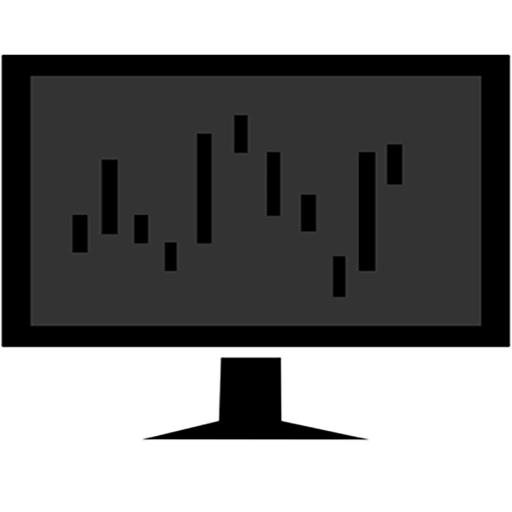 As founder of The deep dive, Jay focuses on all aspects of the business. This includes operations, as well as serving as lead writer for The Deep Dive's stock analysis. In addition to The Deep Dive, Jay writes freelance for a number of companies and has been published on Stockhouse.com and Canna Investor Magazine among others.